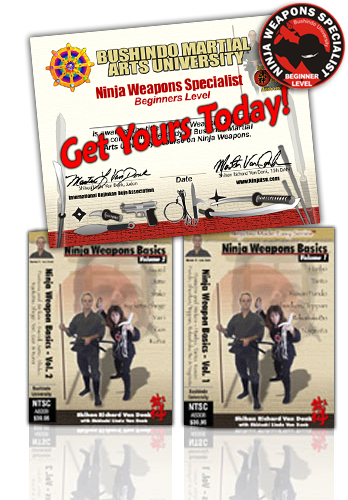 In your Ninja Weapons Certification Course you will receive:

Bushindo Martial Arts University fully recognized Ninja Weapons Specialist Certification in a 8 .5" x 11" sized wall frame able certificate that comes direct with your course.
NINJA WEAPONS BASICS - VOL. 1 DVD

NINJA WEAPONS BASICS - VOL. 2 DVD

NINJA WEAPONS SPECIALIST – Beginner Level Shoulder GI Patch

Here is a description of what is on each of the DVD's -

NINJA WEAPONS BASICS - VOL. 1
Learn the training aspects, dynamic postures and methods of proper Ninja Weapon striking and grappling application in both combat and defense. The first instruction dvd starts with the following Ninja weapons. Hanbo, Tanto, Kusari Fundo, Shuriken, Teppan, Rokushaku Bo, & Naginata. 1 hour Instruction giving you months of study! #DVD511 reg. $39.95

NINJA WEAPONS BASICS - VOL. 2
On the 2nd Ninja Weapons Basics Dvd continues with the aspects, Postures and Strikes of the Sword, Jutte, Shuko, KyoketsuShoge, Yari, Gun & and Kunai.. 1 hour Instruction giving you more months of study! #DVD512 reg. $39.95

These weapons are fun to train with! The Ninja used many weapons, both traditional and exotic so we share with you some of both. We start with the most commonly known Ninja weapons and share with you what they are, how they are used, postures to hold them in, and how to strike with them. This Ninja Weapons Course is made for you to practice along with and learn the correct weapon postures by name and then how to strike with them. Here is your opportunity to learn the aspects, postures and striking methods of 14 popular Ninja weapons that are used in Bujinkan Ninjutsu training. Until now there was nowhere you could get all this information in one place, especially in a course that you can get certified in. The entire course is taught by Shihans' Richard and Linda Van Donk.